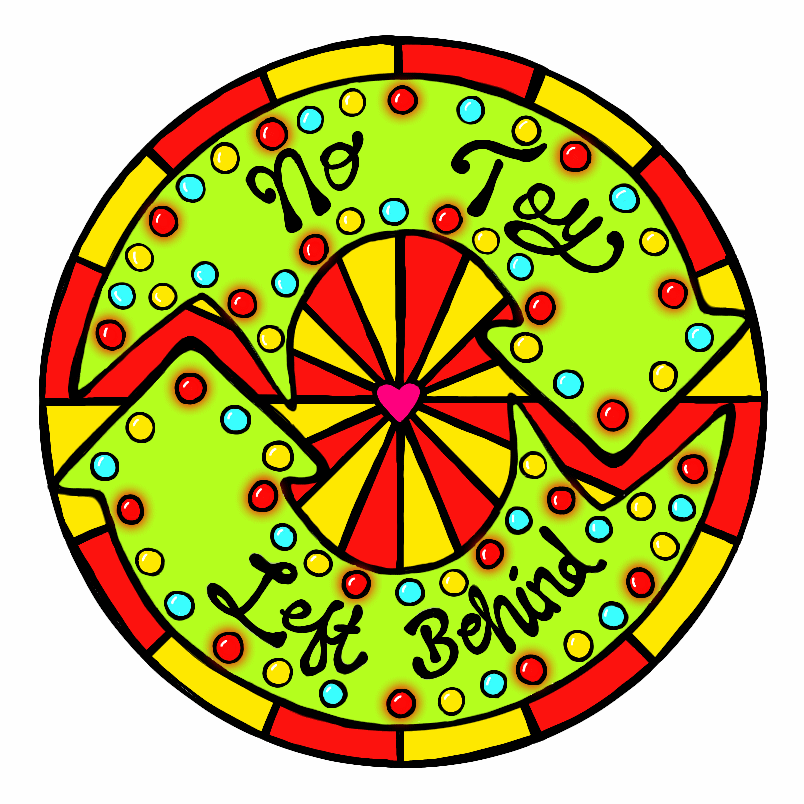 Who are you?
No Toy Left Behind is a community interest company based in Axminster, Devon, UK, with 4 directors: Beth, Caley, Lisa and Rachael. Have a look at the about us info !
Where do you get the toys from?
All the toys in our Axminster HQ and the toys in the online shop are donated by people who want to support reuse and/or help local families in need. Thank you! Without you we wouldn't exist!
​
Can I donate toys? What toys do you accept?
We have pretty limited storage space, so can only accept small toys, games and books (we class "small" as toys that can fit on a shelf!). We cannot take anything electrical (with a cable and plug). To organise a donation please visit our donate page here.
​
How do you clean the toys?
We won't be using chemicals. We will be using a steam cleaner, soap, water, brushes and elbow grease (and/or the washing machine).
​
Are you a toy shop we can visit?
YES! Our dream has always been to open a friendly and accessible community toy shop with space to browse, hang out and play! We are based in a lovely bright upstairs room in Pippins Community Centre. There is plenty of parking at the centre and we are open Monday - Saturday 1-4pm, closed on Tuesdays. Find us.
​
Can we pay by card?
Yes! We can accept cash or card payments.
​
What is a community interest company?
We are a social enterprise and a registered community interest company. This means we must work for our community's benefit and that all our profits have to be used to support the project. We are regulated by the Community Interest Company regulator to make sure this happens.
​
What makes you different from a charity shop?
The No Toy Left Behind team will carefully pamper, grade, tag and present toys so that they are giftable. By keeping our focus solely on children's toys we will be able to have a wider range and offer more choice. By supporting us you're supporting our focus on facilitating sustainability and the creation of a local circular economy. You're also supporting local families in financial difficulties who will be able to receive tokens for our toys, via the food banks. We want our shop to be a friendly, welcoming community hub: a place where grown-ups and children can stop for a chat, are welcome to windowshop and encouraged to stay and play.
​
If you want people to use secondhand toys why don't you just give the toys away?
When we surveyed our community to figure out the barriers to buying preloved, the results showed that even when people liked secondhand toys, there was a strong preference to buy new toys as gifts because of the perception that preloved was cheap, tatty and not giftable without packaging/presentation. We want to create a buzz around preloved and make buying preloved toys a serious contender to buying new.
​
Additionally, selling toys will allow us to 1. Be financially sustainable so that the project has longevity and won't need to rely on volunteers, grants and donations to cover the running costs. 2. Support a great community facility for families 3. Support our project to supply giftable preloved toys for families in financial difficulties. To have a look at how we make No Toy Left Behind work financially please see our plan here.
​
Is buying preloved toys sustainable?
Buying preloved is generally more sustainable than buying new. Keeping a product in circulation for longer means less demand for new products, and this saves raw materials, reduces waste and conserves energy. But preloved doesn't mean perfect. As a society, the sheer scale of our demand for 'stuff' is a real problem (even if we increase the proportion that is preloved) and the only truly sustainable solution is to buy less of it. But when a ten-year-old's birthday is around the corner – that can be really hard! That's why we started No Toy Left Behind – to bring you pampered preloved toys of giftable quality.
​
Consumerism is a big environmental problem. Is this the solution?
No. No Toy Left Behind is one local solution to a complex global-scale problem. As a society there is so much more we need to do, from reducing our demand for 'stuff' to improving the sustainability of the energy and materials used to make it. But, by helping you buy preloved, and by working with other fantastic local organisations like Axminster repair café, we will be one tool in the big toolbox needed to help our community reduce its environmental impact.
​
What else can I do to reduce my environmental impact?
There are lots of local organisations that can help you reduce the environmental impact of the products you buy or use. Your local repair café can help breathe new life into broken things, and projects like "Borrow don't Buy" offer items for loan so you don't need to buy in the first place. But there are lots of other things you can do – why not contact your MP or local councillor to talk about how you can work together to make your community more sustainable?
​
What will you do with the toys you can't sell?
Every toy deserves a chance – we will do as much as we can to pamper even the most pummelled toys back to their prime and we'll have a "Very Well Loved But Still Lovable" section to rehome the toys that don't make the grade.
For safety we won't be insured to repair broken toys ourselves, but we will always signpost to the monthly repair café. Some broken toys will be upcycled and given a new lease of life by our crafters, or stored to use in our upcycling workshops.
As a last resort, and a last resort only, we partner with Terracycle to recycle any toys or materials whose journey is truly over.
​
Do you give toys away to children in need?
Yes! We have a token system. Families who are having to use the food bank in Axminster can ask for £10 of tokens for their children for Christmas and birthdays. They can then come and browse and spend the tokens in the shop. In the future we hope to be able to extend this to food banks in surrounding towns.
​
​
FAQs